Miami Dolphins vs New York Jets Madden 20 Sim Predictions, Picks & Odds 5/19/20
Recently updated on May 19th, 2020
Tuesday's line-up of Madden simulations features an AFC East classic with the New York Jets at the Miami Dolphins for what is sure to be an interesting one. Neither the Jets nor the Dolphins had a particularly good season in 2019. The Dolphins are one of the worst-rated teams in the game. This is unsurprising as many football fans were at one time accusing the team of losing on purpose to gain tactical draft picks for a squad rebuilding.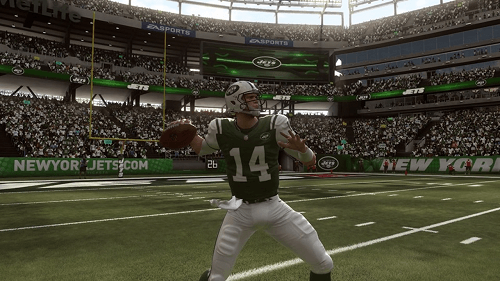 The Jets were hoping for quarterback Sam Darnold to come out and lead the team to their first playoff appearance in almost a decade. However, a bout with mono and a game with ghosts really dented confidence in the capabilities of the quarterback. Madden 20 still seems to be optimistic about the team's skills. So confident, in fact, that this seems almost like an easy call. But is it really that simple of a prediction?
Miami Dolphins vs New York Jets Madden 20 Sim Predictions
Here are some stats and facts to keep in mind about the two teams in this matchup:
So, as stated above, the Miami Dolphins were not looked upon all too favorably this season. The highest-rated player in the team is DeVante Parker, with an overall of 84, but it is Jakeem Grant's stellar speed rating that you should be focused on. If quarterback Ryan Fitzpatrick (who is rated at 74) can connect with Grant, the Jets defense will have trouble keeping up with him.
Defensively, Xavien Howard, Aqib Talib, and Reshad Jones lead the squad with a rating just above 80. It is plain to see that the team doesn't exactly have many star players and didn't really create a situation in which to get anyone to shine.
The New York Jets come into this game with a pretty strong team concerning the Dolphins. Offensively, the team has a strong running back in Le'Veon Bell, who boasts a strong overall rating at 88. He is backed up by quarterback Sam Darnold who has got the same rating as Ryan Fitzpatrick at 74. Then, there is also wide receiver Robby Anderson with an 84 rating, who has proven that he is very capable of getting away on runs.
Defensively, the Jets have a strong squad with CJ Mosely, Jalen Adams, and Avery Wilson, all boasting ratings that exceed 80. More often than not, you can expect the team's offense to come out on top more frequently when playing against weaker offense.
Our Prediction
It seems that the team at Electronic Arts who work on the Madden series was made up of optimistic Jets fans this season. We think this is an easy one, so take the Jets on a spread. While some simulations have seen Fitzpatrick pulling off some big plays, we don't think that they are a team to depend on.
Bet on This Game Here
Bet on this simulation at BetOnline.ag. Make sure to have a good look at our other sportsbooks to find more Madden 20 matches to bet on!
More NFL betting news here: