Recently updated on January 10th, 2020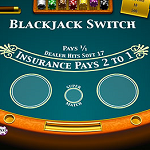 Blackjack Switch is an exciting variant of standard blackjack created in 2001 by Geoff Hall. In Blackjack Switch, you get two pairs of cards exposed. The main difference from standard blackjack is the ability to switch cards between the pairs.
This gives the game a fun edge. If you enjoy classic casino games but with a twist, this may be the game for you. Below we look at Blackjack Switch, including how to play and the differences in rules compared to standard blackjack. So, read on!
Play Blackjack Switch for Real Money
More Online Casinos
Blackjack Switch Links
How to Play Blackjack Switch
Blackjack Switch uses most of the standard online casino blackjack rules, so gameplay is pretty familiar. If you don't know how to play the game at all, here is a quick run-through of what you need to know to get started.
In blackjack, you aim to beat the dealer. Some players may tell you it is to get a score of 21, but really it's just to get a score better than the person you are playing against. Here is a step-by-step guide detailing each round in a Blackjack Switch round.
Before the round begins, you place a bet.
The dealer will then hand out two pairs of cards to each player. Each hand is dealt face up.
Depending on the hand you get, you have the option of switching cards between hands, hitting (asking for more cards), standing (sticking with the hands you have been dealt), or doubling down (increasing your stake).
If you decide to switch, you can place the same bets you would have set in a standard blackjack game on each of the hands you switched.
Blackjack Switch differs from standard online blackjack in that you get two hands at a time, and you are allowed to switch cards between the two hands. Do not mistake this for an ordinary multi-hand blackjack game where you can play multiple hands at a time but not switch cards between player hands.

Blackjack Switch Rules for Beginners
Blackjack Switch offers you better odds of winning because you can swap cards around to form better hands. You also have two chances of winning per game. However, all these benefits don't come without a cost.
There is one unique rule in Blackjack Switch that gives the house a great advantage. In standard blackjack, when the player and the dealer have the same hand, it is an automatic push. However, in Blackjack Switch, a push applies to a dealer hand of 22.
The only time a player automatically wins against a push 22 is when they have a natural blackjack (ace and a 10 point card.) This means that the dealer has a greater chance of minimizing losses. (The dreaded 16 is no longer such a horrible hand to get if you're the dealer.)
Aside from this, payouts are also lower in Blackjack Switch than in other variants. You get paid 1:1 for a natural instead of the customary 3:2, which may put off some players.
Other less dramatic rule changes to note include:
You can split your aces. You can only hit once on your divided aces.
Since you get two pairs of cards, you can double down on each pair.
Rules involving the dealer's action on soft 17 varies from casino to casino. Some games require the dealer to stand, whereas others require the dealer to hit.
Betting on Blackjack Switch
In Blackjack Switch, you get four cards, separated into two pairs.
As you get so many cards, you can make side bets on whether you will get a pair, a three-of-a-kind, or four-of-a-kind. This bet is known as the Super Match.
In this bet, players wager on their chances of getting a pair of matching cards. If players to participate in this side bet, the game starts with the side bet first.
If you win your side bet, you will get your payout immediately. Those same cards will be carried on into the standard Blackjack Switch game. You will need to place a separate bet on the outcome of the game.
Each card combination has a different payout. Here is a short breakdown:
A pair is the lowest-paying hand. It pays even money.
Three-of-a-Kind pays 5/1.
If you have two pairs, the payout is 7/1.
If you are lucky enough to get four identical cards, your payout is a staggering 50 to 1.
Should I Play Blackjack Switch?
Blackjack Switch is a fun game with both pros and cons. Some rules reduce the overall house edge, but the dealer still pushes on if they get a hand of 22.
Because there are so many advantages for players in this variation, payouts are lower. A natural only pays 1:1 instead of 3:2.
These are all factors you need to consider when weighing up the game against other regular blackjack variations.
Overall, if you don't mind the payouts, we think it's a great variation to play because the rules really favor players. Before you jump in, ensure you study both basic strategy and a switching strategy to help you avoid betting on weak hands.
Check out our other blackjack guides: