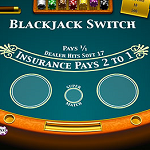 Blackjack switch is an exciting derivative of the standard online blackjack. Switch is a game that was created Just over a decade ago in 2009 by Geoff Hall. In blackjack switch, whether you're playing at an online blackjack casino or at a land-based casino, you get two pairs of Cards exposed. The main games difference from standard blackjack is the ability to switch cards between the couples. The Blackjack switch game which gives a fun edge to the standard set that we are all used to. If you enjoy classic casino games, but with a twist, then this is the right game for you.
Not all casinos have this variation of blackjack. However, the top US online gambling we recommend have a vast range of blackjack games, including switch. In our in-depth guide to blackjack switch, we will look at how to play Blackjack switch and the differences in betting when playing blackjack switch. Additionally, we have listed the best casinos to play real-money Blackjack Switch game  below.
 Play Blackjack Switch for Real Money
How to Play Blackjack Switch
Blackjack, which follows the same pattern as standard online casino blackjack. There are a dealer and players. In black tricks which you are again playing against the dealer not against other players. So the blackjack switch aims to have a hand better than the dealers. We have outlined the steps to playing the game of switch blackjack.
The dealer hands out two pairs of cards to each player. Each hand is dealt face up.
Depending on the sides that you get, you then have the option between switching or just heating standing or doubling down.
If you do decide to switch, you can place the same bets that would set in a standard blackjack game on each of the hands that you switched
Blackjack Switch Rules for Beginners
The online blackjack switch game offers prayers better odds of winning because they can swap around cards to form better hands, and also, they have two chances per game. However, all these benefits and advantages don't come without a cost. There is one particularly unique rule in a blackjack switch that gives the house or the dealer a great advantage. In standard blackjack, when the player and the dealer have the same hand, it is an automatic push.
In blackjack switch a push applies even when the dealer bust. This may be a slight disadvantage for players hole in a standard blackjack game would win if they have a natural blackjack over a dealer who has busted. The push in blackjack switch applies only if the dealer busts by 1. what do you mean by that it will essentially if the dealer has a hand value of 22, it is still considered a push. Should his hand while you go over 22 when it is indeed a bust, and the player wins. Besides this particular unique rule in blackjack switch, the rest of the rules in standard blackjack apply.
You can split your aces, and on each of those divided aces, you can only hit once.
Since you get two pairs of cards, you can Double Down on each pair.
Betting on Blackjack Switch
In a game of blackjack switch, you get four cards, separated into two pairs.
If in those four cards you get a pair or three of a kind all four of a kind, you can get a payout if you make a side bet on one of those outcomes. Blackjack switch has an exciting additional side bet known as the blah blah blah.
In this bet, players are wagering on their chances of getting a pair of matching cards of some kind. If players to participate in this side bet, the game starts with that side bit first.
If you win your side bet, then you get your payout immediately, and those very same cards that you got are carried on into the standard blackjack switch game. Using those same cards, you then start to wager and bet for the main blackjack switch game.
Different card combinations have different payouts.
A pair is a lowest-paying hand which pays even
Three of a Kind pays 5/1
If you have two pairs, your payout is 7/1
if you are lucky enough to get all four identical cards, your payout is a staggering 50 to 1.
Check out our other blackjack guides: