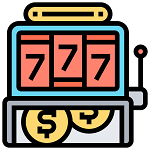 There are no secrets to winning on slot machines because the casino game is based on luck. Even so, slot myths continue to find their way on the web but what's true? Unfortunately, players won't always know the determined outcome of common slots. It means your chances of winning at a land-based casino or online depend on a random number generator. However, players can improve their chances of winning at the casino game.
With so many online gambling slot machine myths and misconceptions that can confuse players. Let's differentiate the facts from lies so that you play slots without any unanswered questions. Read through our popular slot machine myths page to not be fooled by what some online casino sites say.
Play Casino Slots
Slot Game Misconceptions
Top 10 Slot Machine Myths
Have a look at how we separate the truth from false information. We have listed the slot game myths followed by the actual truth.
1.      When playing slots players can't increase their chances of winning
The truth is that players can improve their chances of winning the game. Yes, we know that slot machines are programmed but players can do something. So, players have to select online slots they want to play and use the bonuses to their advantage. However, you can't change the spins of the machine because of RNG.
2.      Using the slots bonuses affect a players chances of winning cash
No. Players using a bonus won't affect them winning real money in slots because the RNG doesn't know the difference. We mean that it won't sense that players are playing with a bonus or for money.
3.      Casino control slot machines
Can a casino control slot machines? No. casinos don't have control over the game because slots are programmed. The slot machine may be under a certain casino but that doesn't mean that they know exactly what the machine outcome will be every time.
4.      High rollers are the ones who win the progressive jackpot
Honestly, all players have a good chance of winning, progressive jackpots are not exclusive for high rollers. However, some web-based slot casinos chances of winning the jackpot increase with the high-risk spin.
5.      Slot machines that have not paid out for a long time will eventually pay
Slot machines will pay out one way or the other but you can't pinpoint when this will happen. Common slots are random and will payout when a player wins.
6.      Hot streaks and cold streaks are how slot machines are programmed
This is not true. The casino game is programmed to ensure spins are random. At some point, the slots can payout a lot (hot streak), likewise, not cash out (cold streak) at a certain time. This doesn't mean that they are set to do so.
7.      Slot machines that cash out a jackpot will not take out any more money
False. As we have said a few times, slots are random and the machine outcome is not affected by what happened before. Spins are not connected to the previous.
8.      The autoplay feature does pay well compared to the pressing the click button
The cash out of a slot does not depend on the way you spin the reels.
9.      Slot machine myths and misconception: Casinos want players to lose
This is not true because credible casinos aim to offer fair online slots. They do not control the random nature of the machine. Even though they want to make profits, casinos are regulated and can't control the results of a machine.
10.   Casino slots adjust themselves depending on how many times players lose or win
Some players are said to believe this notion but it's not true. There is no possible way for the game to do this because of its random nature.
Check out our other slots guides: