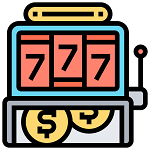 Slot myths remain popular even though it has been proven that there are no secrets to winning on slot machines. The casino game is based on luck, so you do not influence the outcome of results.
Below we look at the top 10 slot machine myths and misconceptions that persist among players. We will separate the facts from lies so you can play slots making stupid decisions due to foolish beliefs. Read on and find out whether some weird myth has fooled you.
Play Casino Slots
More Online Casinos
Slot Game Misconceptions
Top 10 Slot Machine Myths
Here are the top 10 most common slot myths. First, we'll look at the myth, and then the truth afterwards:
1.      While Playing Slots, You Can't Increase Your Odds of Winning
Theoretically, you cannot change the outcome of a spin on a slot game. It is pre-programmed to give you a result as soon as you hit the spin button. However, the truth is that you can choose to play games that have a better chance of paying out.
If you play games with low volatility and a high return-to-player percentage, you will increase your odds of getting a payout.
2.      Using Slots Bonuses Affects Your Chances of Winning Cash
A bonus will not affect your odds of winning real money while playing slots. The RNG doesn't know whether you are playing with real money or bonus cash. Thus, the game is not programmed to make you lose when you play with bonus money because it doesn't know the difference between credits.
3.      Casinos Can Control Slot Machines
Casinos don't have control over how often you win or lose in a slot game. Developers program slots. Since most games use multi-network systems, casinos will need to contact the game developers to change the probability or RTP percentage.
This means these figures will change at all casinos offering the game, and developers often don't want the hassle that will come after making such a change.
4.      Only High Rollers Win Progressive Jackpots
Honestly, all players have a good chance of winning a progressive jackpot game. The prizes are not exclusive to high rollers (although a handful of games may require you to be a high roller to meet the minimum bet.)
Your chances of winning the jackpot don't increase if you raise your bet amount.
5.      Slot Machines that Have Not Paid Out for Long Are Due
Slot machines will always payout sometime, but you can't pinpoint when this happens. It might be that a game took six months to payout, but then suddenly pays out twice in one week. So, never fall into the trap of thinking a game is due.
6.      Hot Streaks and Cold Streaks Are How Slot Machines Are Programmed
This is not true. Casino games are programmed to ensure results are random. At some point, a game can payout a lot (hot streak). Likewise, it can also go through a period where it doesn't payout (cold streak).
This doesn't mean that these periods are programmed into the machine. All results remain random regardless of whether the game has paid out recently.
7.      Slot Machines that Cash Out a Jackpot Will Not Payout Again
This is false. As we have already mentioned, slots are random, so outcomes are not affected by previous games. If you play the machine another player recently won on, you are not any less likely to win.
8.      The Autoplay Feature Does Not Pay Well Compared to Pressing the Spin Button
We cannot stress enough that pressing the "SPIN" button does not affect whether you win or lose. Some players think you can change outcomes by hitting the button as symbols align on the machine, but this is not true. All outcomes are decided before you spin the reels.
9.      Casinos Want Players to Lose
This is not true. While casinos want to make a profit, it is in their interest for some players to win. If nobody ever wins, nobody will want to gamble, and people will believe that online slots aren't fair.
Also, casinos have no control over how often machines pay. Manufacturers do.
10.   Casino Slots Are Adjusted Depending on How Often You Win
Some slots players believe online casinos track your play. So, depending on whether you are winning or losing, the game's payback percentage is adjusted to ensure you win or lose. But this is not true.
You are not more likely to hit a jackpot because you lost on so many previous spins. You are also not likely to stop winning because you won on a previous spin. This is not how random number generators (RNG) work.
Check out our other slots guides: