Casinos in Kentucky are outweighed by the number of racetracks in the state. Also known as the Bluegrass State, Kentucky is not fairly known for its gambling industry. To assist you in terms of navigating the Kentucky gambling industry, we have compiled this guide for both residents and visitors of the state. Casinos in Kentucky are not popular at all; therefore, the state is considered the home of horse racing thanks to its popular Kentucky Derby. The aspects we will touch on in our Kentucky casinos guide include internet gambling, horse racing, greyhound racing, brick and mortar casinos as well as the relevant gambling laws in the bluegrass state.
Residents and visitors of Kentucky have quite a few gambling options at their disposal, regardless of the fact that there aren't many casinos in Kentucky. The laws surrounding gambling at a casino site in Kentucky are pretty straightforward, it's illegal. However, there are other avenues that residents in the US can follow, mainly being offshore gambling sites. We've listed some of the best casino sites that offer a wide variety of gambling options to residents in the US including Kentucky.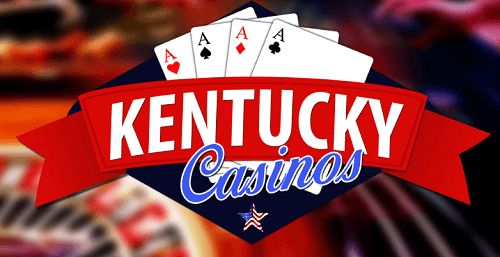 Top Online Casinos in Kentucky
Casinos in Kentucky Page Links:
Kentucky Gambling Laws
The state Kentucky only permits horse racing, state lottery, charitable bingo as well as raffles. Charitable organizations may host raffles and bingos in an aim to make money. Casino operators may not promote gambling in Kentucky as this is a Class A misdemeanor or Class D felony, dependent on the charges at hand. The minimum legal gambling age in the bluegrass state stands at 18. This is across all legalized gambling platforms in the state. Greyhound racing is not permitted in the state of Kentucky.
Racetracks in Kentucky
Considering how popular horse racing is in Kentucky it makes sense that there are plenty of racetracks available in the state. We mentioned that there are no casinos in Kentucky, however, there are six racetracks, including the popular Churchill Downs.
| | |
| --- | --- |
| Racetrack | Amenities |
| Churchill Downs – Louisville | No instant Racing machines |
| Ellis Park Race Course – Henderson | 170 instant Racing machines |
| Keeneland – Lexington | No instant Racing machines |
| Kentucky Downs – Franklin | 500 instant Racing machines |
| The Red Mile – Lexington | 900 instant Racing machines |
| Turfway Park – Florence | No instant Racing machines |
Forms of Gambling in Kentucky
We mentioned previously that residents have limited gambling options in Kentucky. These include the official state lottery, horse racing as well as charitable bingo and raffles. In terms of lottery games Kentucky residents can enjoy the, 5 Card Cash, and Lucky for Life, Pick 3, Pick 4 as well as Mega Millions and Powerball lottery games. If residents are looking to bet on any horse racing activity taking place in the state, they can do so at any of the racetracks in the state.
Ellis Park, Red Mile, and Kentucky Downs currently offer a form of gambling that is rather controversial and is currently being debated by the legal system in the state. The above-mentioned racetracks currently offer what is known as 'instant racing machines'.
Gambling History of Kentucky
1783 saw the formation of the horse racing industry in Kentucky. The industry was established before Kentucky was formally legalized as a state. The first racetrack that was introduced in the state was the Elm Tree Gardens racetrack, and it was based in Louisville. Shortly after that in 1787, The Commons were introduced in Lexington and in 1883 Kentucky saw the establishment of the Churchill Downs racetrack.
The very first lottery draw in Kentucky took place in 1792 and this in efforts of raising funds for a church in Lexington. However, the official legal establishment of the state lottery took place in 1988.
Casinos in Kentucky FAQs
Other US Casinos