Casinos in Massachusetts are fortunately legal. US players in the state can enjoy commercial casino games at the various casinos in Massachusetts. Compared to other US states with casinos, Massachusetts has an average number of casinos. You can play casino games at two commercial casinos in the state and play slots at only one slot parlor. There two planned tribal casinos in the pipeline. For those who enjoy betting on horses, there is a horse racing track which has harness racing from April. Recently there has been a change in the law that legalises Daily Fantasy Sports, therefore you can enjoy this avenue of sports gambling.
Basically, gambling in Massachusetts is down to the following activities
Commercial Casino gaming
Massachusetts Lottery
Horse Race Track Betting
Gambling for charity purposes
Tribal Casinos (Pending)
This guide to gambling in Massachusetts looks at what the handful of casinos in Massachusetts offers to potential visitors. Additionally, we look at the laws around the two yet to be legalized forms of gambling – sports betting and online gambling. We have also listed the best US online casinos our readers in other states.
Best Online Casinos in USA
Gambling in Massachusetts
For a state that actually allows casino gaming there are a lot of restrictions around gambling in Massachusetts. However, some of those laws are relaxing and we have seen the recent allowance for Daily fantasy sports gaming for players 21 years and older. In states where Daily Fantasy Sports gaming for money has been legalized, it usually paves the way for sports betting. Sports betting, in the event of being legalized opens up room for the possibility of mobile online wagering. Once that is in play then a case can be made for online casinos in Massachusetts. Lets cross fingers, we might just be filling this guide with a list of new online casinos in Massachusetts soon.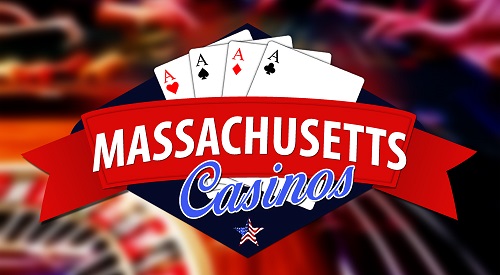 Commercial Casinos in Massachusetts
Currently there are only three casinos in Massachusetts locations spread across the state. The state is split into three regions and only one casino may operate in each region according to MA gambling laws. There was an attempt by MG&E in 2019 to circumvent that law and launch another casino in MA, which failed. So, for now it seems casino players in Massachusetts are limited to the three gambling locations- Encore Boston Harbor Casino, MGM Casino Springfield Massachusetts and Plainridge Park Casino.
Top 3 Casinos in Massachusetts
MGM Casino Springfield Massachusetts
One MGM Way
Springfield, MA 01103
Contact
413 273 5000
Plainridge Park Casino
301 Washington Street
Plainville, MA 02762
Contact
844-327-4347
Encore Boston Harbor Casino
One Broadway
Everett, MA 02149
Contact
(857) 770-7000
Tribal Casinos in Massachusetts
Tribal casinos in Massachusetts have been on a rocky road to realization. The two federally recognized tribes in that state have been at loggerheads with the state which has fought them on previous occasions when they attempted to launch casinos. After lengthy legal battles both the Mashpee Wampanoag Tribe and the Wampanoag Tribe of Gay Head in Aquinnah came out victorious. Now we await the completion of the tribal casinos on each of these tribes to add on the available casinos in Massachusetts
Popular FAQs about Gambling in Massachusetts
More US States Casino Guides