What Makes The Most Money In A Casino?
Slot machines typically make the most money at online and land-based casinos globally, though the revenue is difficult to estimate. These games are advantageous to the casino because they're easy-to-play and your chances of winning more money are lower.
In the United States, slots earn roughly $6 billion a year, with $3.2 billion earned from penny slot machines. That explains why so much of the casino floor or library consists mainly of slots and few other options.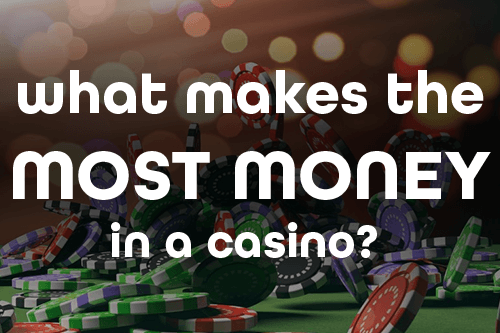 Other Moneymaker Casino Games
So what, besides slots, makes the most money at a brick-and-mortar or online casino? Well, based on the revenues reported, card games like blackjack and baccarat are worth $1.2 billion and $1.15 billion a year, respectively.
Other table games like craps and roulette round out the figures at $394 million and $367 million a year. Conversely, Pai Gow Poker is the least profitable, explaining why most casinos don't offer it. While it has a high house edge, the slow pace and complex rules add to the lack of popularity amongst players.
What Makes the Most Money?
Since casinos mainly make money from the games, there are two ways they make money on casino gambling. First is the house edge, closely followed by the "handle".
Each bet made at a casino is affected by the statistical advantage (house edge) the house adds to a game. For table games, this is applied to every bet and is fixed. But for slots, it's based on the algorithm that randomizes results.
House Edge
Basically, the house edge will earn money in the long-run, regardless of how much players bet. The edge also affects your odds of winning, so it's vital to understand it. In slots, the advantage is the return-to-player (RTP) percentage. RTP is calculated over hundreds of spins and averages around 80-90% for most slot machines.
To work it out, we'll start with a machine boasting a 96% RTP, which means you could win 96% of your bet back. However, the other 4% goes to the casino even if you don't win your bets back.
Conversely, the edge of casino games is based on statistics and the ideal odds of winning. In blackjack, this is 0.13% and 5.26% for roulette wheels, which lowers your wins significantly.
Most Money: The Handle
The handle is the most important part to the gaming operator because it's the total amount players have put in bets. In table games, all bets (cash and chips) are put into the handle and will go one of two ways: players will win it or lose it.
Casinos make the most money from the house edge, time on each game, and the average bets. If there are few players, the handle and profits are less for the casino. When you look at the business model, this explains why table limits are higher, as the casino needs to turn a profit.
How Casinos Make the Most Money
As you can see, casinos are motivated by profits, and the games are one way to get their margins in line. Online casinos have fewer operating costs, though they also have ways to convince you to keep playing.
After all, getting you to spend more money helps them make enough to pay out your wins and keep going. Many casinos give out comps, like free drinks at land-based casinos or deposit match bonuses at online gaming establishments.
So, as long as you keep this in mind, you can keep your profits in line as well with the best payout casinos.