Philadelphia Eagles vs. New Orleans Saints Madden 20 Sim Predictions, Picks & Odds 6/8/20
Monday's set of Madden NFL simulations has got a big NFC clash with the New Orleans Saints visiting the Philadelphia Eagles. The Saints come into this one with a big win over the Pittsburgh Steelers, which saw them score 50 points. With some star players on both offense and defense, the Saints have a good chance of running Pennsylvania dry with a win over the Eagles.
The Philadelphia Eagles have got some great players on their squad, but they are susceptible to picking up losses when facing fierce opposition. They come into this game off a loss to the Atlanta Falcons. Although they were not blown out in that game, it does show that they are beatable. Who will win in this classic matchup?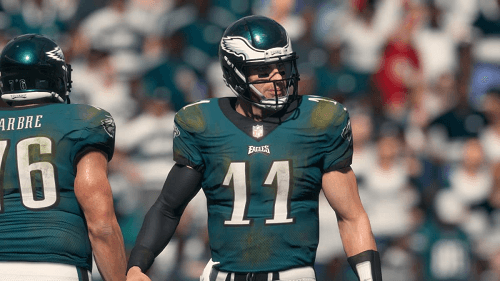 Philadelphia Eagles vs. New Orleans Saints Madden 20 Sim Predictions
Before we give you our prediction, here is a quick look at some of the stats in this one:
The Philadelphia Eagles have got a good offense with a pretty good set of skill and line players. On the line, there is center Jason Kelce (94), right guard Brandon Brooks (93), and right tackle Lane Johnson (89). In terms of skill players, tight end Zach Ertz leads the way with a rating of 90. He is followed by wide receivers Alshon Jeffery (85) and DeSean Jackson (84). Then, there is Carson Wentz at quarterback at 83.
Defensively, defensive tackle Fletcher Cox is the man to look out for with a rating of 95. He is followed by defensive end Brandon Graham (87) and safety Malcolm Jenkins (86).
Although the Eagles have great offensive players, they don't really match the Saints. Wide receiver Michael Thomas leads the Saints offense with an overall rating of 99 – one of five players in the game with such a rating. Then, there is quarterback Drew Brees with a 94 rating, and high metrics for accuracy on each type of throw.
The team's offense is rounded out with running back Alvin Kamara at 89 and tight end Jared Cook at 87. So, they are sure to get some easy wins.
On the defensive squad, defensive end Cameron Jordan is the highest-rated player with a rating at 92. He is followed by linebacker Demario Davis (89), safety Marcus Williams (86), and cornerback Marshon Lattimore (85). So, it won't be easy getting around the Saints.
Our Prediction
So, this a hard one because both teams have strong squads. However, the Saints had a better season this year, and the Eagles seem to be susceptible to random losses. The problem, though, is that the Eagles seem to come up tops in big games quite often.
That said, we think that Saints are the team to go with on this one. They have a solid squad and seem to connect more often than not. Following the Saints performances in previous matches, we also think that it might be a good idea to try the over in this one.
Bet on This Game Here
More NFL betting news here: