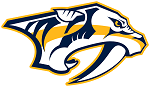 The Nashville Predators are a hockey team from Nashville, Tennessee. They're part of the Central Division of the Western Conference in the National Hockey League (NHL). The Predators are based at the Bridgestone Arena since 1998. Concurrently, this was also the year the team was founded. Their head coach is currently Peter Laviolette, a former NHL player and coach with the New York Islanders and Carolina Hurricanes.
Let's take a look at this fairly green team and their performance history in the NHL. Furthermore, for some great betting odds on the Nashville Predators, take a look at the lines at our recommended sports betting sites.
Best Nashville Predators Sportsbooks
Top Sites In America
What You'll Find In Our Nashville Predators Guide
Nashville Predators Overview
The Predators were founded in 1998 as part of an NHL expansion franchise offered to Craig Leipold, telemarketing and media business mogul. Leipold then transferred ownership to locally based ownership group, Predators Holdings LLC.
The team colors of the Predators are gold, navy blue, and white. Their mascot is Gnash, a blue and white saber-tooth tiger. Presently, the team has a minor league affiliate team – the Milwaukee Admirals – that plays in the American Hockey League.

Check out our other NHL guides:
Nashville Predators' Performance History
For such a new Western Conference team, the Predators have seen some moderate success, barring winning the actual Stanley Cup. They have the second-longest active post-season appearance streak in the NHL, appearing five seasons in a row. The Nashville Predators first qualified for their first Stanley Cup playoffs in the 2003-04 season.
Then, in the 2014-15 season, they finished second in their division and lost in the first round of the Playoffs. 2015-16 and 2016-17 saw the Predators come in fourth in their division. However, they made it to the Stanley Cup finals, losing to the Pittsburgh Penguins. The 2017-18 and 2018-19 seasons saw them dominating the Central Division by coming in first. But they failed to get far in the Playoffs, getting knocked out in the second round and first round respectively.
Ultimately, if the Predators' performance is anything to go by, a team's performance in their division isn't always necessarily testament to how well they'll perform in the Playoffs.