There are casinos in Texas, but not in the form of land-based casinos. The state has not legalized the building of brick-and-mortar casinos, except for that of tribal casinos. Texas also offers other kinds of gambling outside of casino gaming.
To find out more about casinos in Texas keep reading our guide. We have included the laws and what forms of gambling you can partake in.
US Gambling Sites
More Online Casinos
Casino Cruise in Texas
Boat cruise casinos are one of the gambling forms allowed in Texas. The cruise casinos sail out into the Gulf of Mexico to offer their gambling activities. Residents can board the Jacks or Better Casino, which is based in Galveston, to gamble.
The casino cruise offers craps, blackjack, three card poker, roulette, slots, video poker, and a sportsbook. You will only be allowed to gamble if you provide your photo ID.  This is not an issue as you will need it to board the boat.
Indian Casinos
As we have mentioned, the only form of land-based casinos allowed in Texas is the Indian casino run by a federally-recognized tribe. This is because the Native American territories are seen as independent and operate in their own jurisdiction.
Residents can visit the Kickapoo Lucky Eagle Casino owned by the Kickapoo Traditional Tribe. The casino offers 33,000 gaming machines, including slots, bingo, poker, and pull-tab machines. It also has five restaurants and a hotel.
Another casino is Naskila Gaming, which has over 800 gaming machines. It does not have a hotel but has a café for its visitors.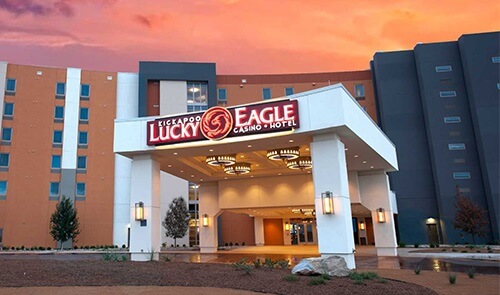 Parimutuel Betting
In the state of Texas, you are allowed to place wagers on horse and dog races.
Horse races have various classes. As such, they are available at different locations. Classes are as follows:
Class 1 horse races are available at Lone Star Park, Retama Park, Sam Houston Race Park.
Class 2 horse races are not yet available in the US state but are in the works.
Class 3 horse races are available at Gillespie County Fair and can only host 16 race days.
Greyhound races are only available in two venues. You can watch live races or online. The most popular track is the Gulf Greyhound Park, which is in La Marque. The other park is the Valley Race Park.
Texas Gambling Laws
The forms mentioned above of gambling are not the only options available in Texas. Other forms include the lottery and charitable gambling. The Texas Lottery Commission regulates the lottery.
The Charitable Raffle Enabling Act regulates charitable gambling. This act monitors the raffles in the state, where all the proceeds go to charity organizations.
The Texas Racing Commission issues and regulates all the track racing licenses.
If you want to know more about the state's gambling laws, you can visit the Texas state law library website. You need to be 18 or older to gamble in Texas.
Casinos in Texas FAQs
How many casinos are in Texas?
There are two Indian casinos in Texas. Other forms of gambling include boat casinos, parimutuel betting, horse and dog racing, lottery, and charitable gambling available at various venues.
Why are the no casinos in Texas?
The state law does not allow land-based casinos. Hence, there are no casinos in Texas. However, casinos can operate on independent Native American land.
Can you gamble in Texas?
Yes, you can gamble in Texas. You can bet on horse and dog races, the lottery, raffles, and Indian casinos.
How many Indian casinos are in Texas?
There are two Indian casinos in Texas: the Kickapoo Lucky Eagle Casino, and Naskila Gaming.
Does Houston have casinos?
No, Houston does not have a casino. However, there is the Sam Houston Race Park, which is a Class 1 race track that is allowed to host races all year round.
Check out our other state guides: